MaestroQA is a SaaS startup that provides quality assurance software that primarily supports the work of call center agents and their team leads. Through regular calls with partners at these companies, one of our account managers noticed that team leads were conducting mini performance reviews on a regular cadence—as often as once a week. Almost all of these "coaching sessions" often came with a corresponding form. What was most interesting is that across companies, these forms appeared to be very similar in structure and content. I immediately saw an opportunity for a new feature for our platform: Coaching Sessions for MaestroQA.
The Challenge
The opportunity was clear: bring the currently offline coaching sessions onto the MaestroQA platform. However, I knew that we would need to gather more information to make sure the transition would be smooth for team leads and agents alike.
"How can we bring this offline process onto our platform by offering an intuitive, seamless experience for team leads and agents to connect, share, and track agent performance?"
Design Process
First, I created a lean UX research plan to integrate into the already existing calls between account managers and client partners. This included informal interview questions that blended seamlessly with their calls but standardized information gathering across all clients that were doing coaching sessions. As well, I asked the MaestroQA account managers to gather as many coaching forms as possible.
With the interview questions and the example coaching session forms in hand, I had the information I needed to thoroughly map the user journeys for both team leads and agents. This was a week-long process where I worked individually to journey map and with account managers as well as partner agents and team leads to validate my hypotheses. As well, I compiled the data from the partner forms in order to sort, group, and synthesize a coaching form that would serve the majority of users.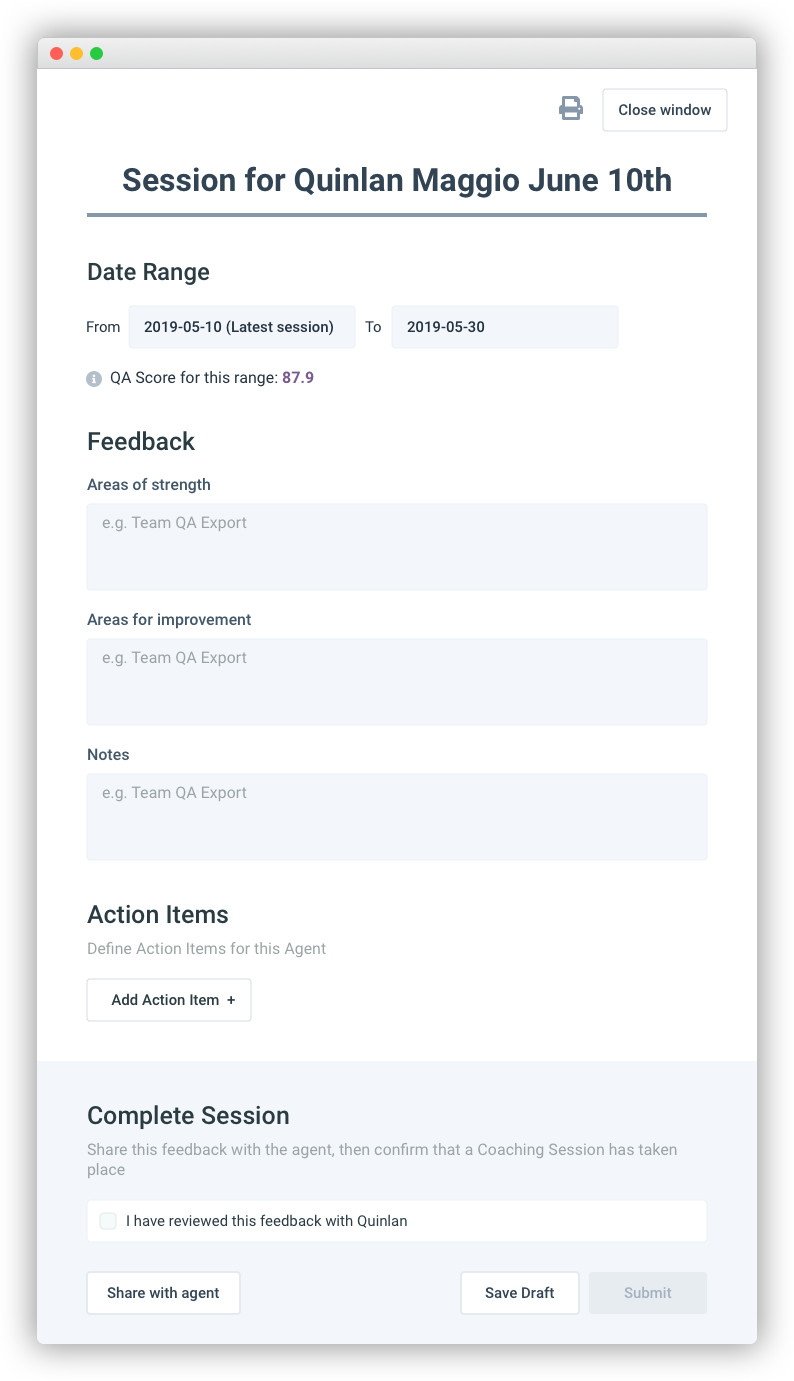 Because MaestroQA had a robust design system, I was able to move quickly from sketching to high-fidelity prototyping in Figma. The form included a Date Range, Feedback area, and special Action Items area to track agent progress over time. I went back and forth with the team about additional features including a fully customizable form. However, we ultimately decided on a simple version of the form for MVP with a plan to collect user feedback and iterate on additional customizable features in the future. As well, the end-to-end flow includes a table on the team lead and agents' respective dashboards with a historical view of past coaching sessions so that both roles can track agent performance over time.

Launch
We launched the form to a beta round of participants, gathered feedback via surveys and informal interviews, and came out with next steps to improve the experience. Ultimately, the feedback was overwhelmingly positive and we succeeded in our goal of bringing users back into the platform for the coaching process. As well, a majority of partners who were using offline coaching forms joined the beta and continue to use MaestroQA Coaching to evaluate and track agent performance. Learn more via MaestroQA's website!